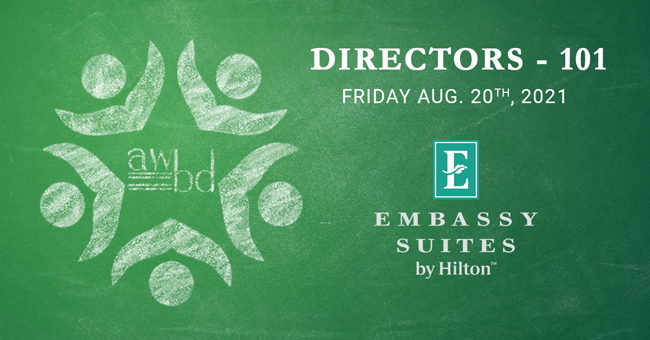 New Director Workshop
AWBD REGISTRATION CANCELLATION POLICY: Cancellations must be made in writing, prior to the event. All registrations are non-transferable.

Designed Just For You!

From facts to financials, to new legislation and regulatory changes, AWBD professionals deliver the introductory/review/refresher course you have been asking for!  Get the most comprehensive overview of water district responsibilities ever offered at one time.  The emphasis is on making the most essential functions of water district directors easy to understand.
Our experienced experts present the basic without being boring, summarizing important information with pin-point accuracy. This seminar is the designed to hold your attention and answer your questions!
Plan on attending.  Lunch and beverages will be provided.  There's plenty of time for the exchange of information and fellowship that are the hallmarks of any AWBD event. Make your reservations early since a capacity crowd is expected and seating will be limited.
SCHEDULE OF EVENT:
  7:30 am   Check-in;
  8:00 am   Program;
11:00 Am   Complimentary lunch;
  3:00 pm   Scheduled Conclusion.
Cost:  $50; advance registration required; seating is limited.
Registration deadline:  12 p.m. on Monday, August 16, 2021.
All registrations are non-transferable.
Embassy Suites – Energy Corridor
11730 Katy Fwy
Houston, TX 77079 United States